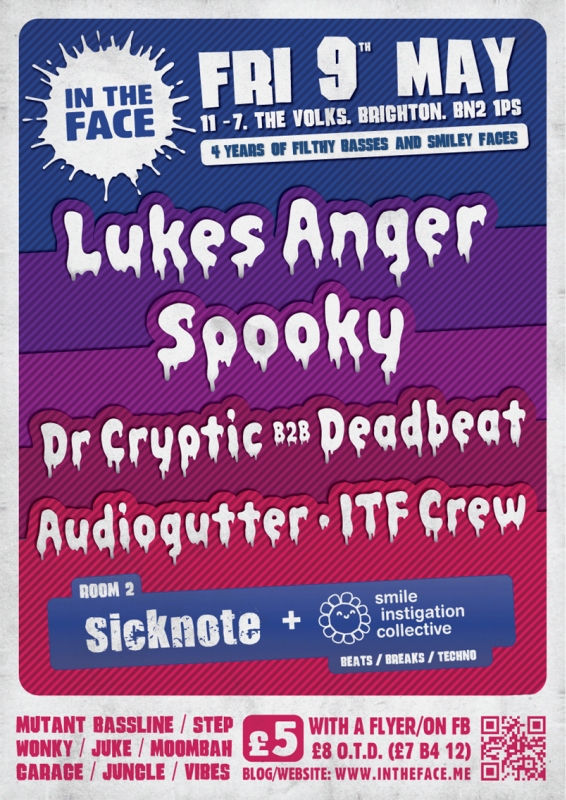 Facebook event:
https://www.facebook.com/events/301138173374189/
Brightons biggest bassline night is back with a vengeance! After a 6 month hiatus we have a serious lineup of fresh talent spanning many genres for your listening and raving pleasure. Celebrating our 4th Birthday (yes it has been that long) with us are:
▼ FULL INFO ▼
------------------------------------------------------------------------
★ ROOM 1 ★
------------------------------------------------------------------------
LUKES ANGER
(Horror Boogie/Dont)
King of wonky techno and heavy bass music Lukes Anger will be playing a special set of uptempo juke for us, reflecting his forthcoming release on Horror Boogie, which combines footwork with acid and techno. Check out his amazing Hyper Booty 3000 Mix below for a little taster.
https://soundcloud.com/lukes-anger/hyper-booty-3000
https://soundcloud.com/lukes-anger/sets ... or-booty-1
SPOOKY
(Oil Gang/No Hats No Hoods/Slew Dem)
Grime legend Spooky joins us for the first time and we are very excited. Having produced tunes for the likes of JME, Wiley and many more grime superstars, this instrumentalist has made waves in the bassline scene with tunes like Baby and Cooly Joyride combining grime with bassline. His live sets are absolutely mental, with Spooky cutting effortlessly between his own productions and some seriously exclusive grime acapellas, and this one will be no exception.
https://soundcloud.com/spookybizzle
DR CRYPTIC b2b DEADBEAT
(Chip Butty Records/Tumble/Project Allout)
Straight outta Sheff Dr Cryptic makes his Brighton debut by going back to back with our very own resident badman Deadbeat. For lovers of garage, bassline and a serious taste of that Sheff niche sound, both these guys have been smashing it all year with tunes out on many different labels. Expect big things.
https://soundcloud.com/dr_cryptic
https://soundcloud.com/deadbeatuk
AUDIOGUTTER
(Mutant Bass/Under The Surface/Requiem)
A collaborator on the very first In The Face release Audiogutter combines electro with breakbeat and mutant bass. Last time he played Brighton the place went off and we expect this to be no different.
https://soundcloud.com/audio-gutter
IN THE FACE CREW: GASH, SIMTEK & FUCKNOSE
(In The Face/Mutant Bass/Off Me Nut)
Our slew of floorkilling residents have been working the crowds at In The Face since the beginning and are well versed in the art of making you move. Blending bassline, juke moombah and more they'll be taking you through.
https://soundcloud.com/gash
https://soundcloud.com/simtek
★ ROOM 2 ★
SICKNOTE
Brightons longest running techno night take over the second room for some heavy techno. Putting on seriously sick music is what Sicknote is all about, and after In The Face smashed it with a takeover at their last night they're coming to us to return the favour.
http://www.sicknotebrighton.com/
http://www.mixcloud.com/Sicknote/
SMILE INSTIGATION COLLECTIVE
An absolutely amazing and relatively new night, focusing on more than just the music. The Smile Instigation Collective do just that, bringing an eclectic mix of styles from reggae to jungle, as well as interesting décor, games and more, all designed to put a smile on your face!
------------------------------------------------------------------------
ENTRY
------------------------------------------------------------------------
It's £8 O.T.D. but anyone who wants £5 Entry just has to share the flyer and then write their own name on our wall (only one name per account pls) x