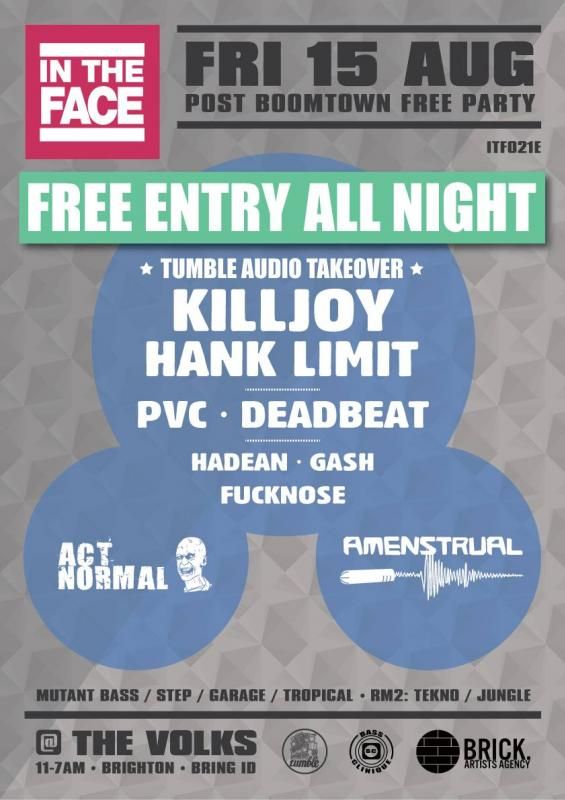 Facebook event:
https://www.facebook.com/events/1488110871406540/
Brighton's best bassline bonanza returns with a takeover from one of UK dance music's most up & coming labels, Tumble Audio. Joining them is Brighton newcomer PVC, the In The Face Crew and in Room 2 we have the ladies that love their music hard & fast: Amenstrual, as well as the Irish Faction that is Act Normal
▼ FULL INFO ▼
------------------------------------------------------------------------
★ ROOM 1 ★
------------------------------------------------------------------------
KILLJOY
(Tumble Audio/Four40Records)
This man has been (dare we say it) killing it for months and months now, expertly blending garage, grime and bassline house. Mixing on Rinse FM with Champion, as well as for Ministry of Sound, remixing for the likes of Hannah Wants & Lorenzo, expect some gritty basslines and serious beats.
https://soundcloud.com/killjoybadboy
HANK LIMIT
(Tumble Audio)
For a while now we have wanted to bring the Tumble lot down to Brighton, especially as some of our residents are on the label, so it's with great pleasure that we are doing this takeover, and bringing label boss Hank Limit down for it too. His style of mixing is intense and frenetic, and we have great expectations considering his music taste.
https://soundcloud.com/tumbleaudio/hank ... udio-rinse
https://soundcloud.com/tumbleaudio
PVC
(Q Recordings/Bass Clinique/ENK)
Local lad PVC has been making waves in the bassline scene recently with releases on DJ Q's new label and Marcus Nasty's Bass Clinique imprint and remixing Donaeo (among others) as well as being part of Brightons ENK collective. PVC will be one to watch out for in the coming months and will be bringing his own brand of bass heavy music to In The Face.
https://soundcloud.com/purplevelvetcurtains
DEADBEATUK
(Tumble Audio/Project Allout/In The Face)
Topping the Juno sales charts with his latest EP on Tumble Audio, Deadbeat is seriously hot property at the moment, and his live sets are no exception to this rule. His love of garage is evident in the music, though the basslines get a front and centre role, and the Sheff influence is clearly heard throughout.
https://soundcloud.com/deadbeatuk
HADEAN
(In the Face/Chip Butty/Tumble Audio)
Fresh off the boat from Thailand, Hadean is back in the UK and back making bangers for your listening pleasure. With tracks forthcoming on Tumble Audio as well as a vinyl release on our very own In The Face label.
https://soundcloud.com/hadeanuk
IN THE FACE CREW: GASH, SIMTEK & FUCKNOSE
(In The Face/Mutant Bass/Off Me Nut)
Our floorkilling residents have been working the crowds at In The Face since the beginning and are well versed in the art of making you move. Always armed with the freshest cuts of bassline, juke, tropical, moombah or your money back!
https://soundcloud.com/gash
https://soundcloud.com/simtek
------------------------------------------------------------------------
★ ROOM 2 ★
------------------------------------------------------------------------
Irish contingent ACT NORMAL will be taking over the night with all things techno. Joining them are the lovely ladies from AMENSTRUAL who will be spinning the hard stuff: jungle/tek/core etc!
ACT NORMAL:
FUKRAG MCGINTY
(Life4Land/Shindig Soundsytem)
Brighton's Oldskool Rave Badman will be joining the Act Normal crew with a very special techno set.
http://www.soundcloud.com/fukrag-mcginty
INFLATABLE FUHRER
(Act Normal)
Known to play lots of different styles, from techno and bassline bangers to jungle, breakcore, gabber and hardcore, Act Normal's head honcho will be bringing some big tunes to the dance floor.
https://soundcloud.com/inflatablefuhrer
SHITTYFISHHEAD
(Act Normal)
A tekno fiend from Cork among other things. ShittyFISHhead will be bringing a bit of core to the night!
http://www.soundcloud.com/shittyfishhead
AMENSTRUAL LINEUP TBC
MORE TO BE ANNOUNCED VERY SOON!!!
------------------------------------------------------------------------
ENTRY
------------------------------------------------------------------------
Once a year we like to put on a totally FREE event, as a little thanks to everyone supporting us over the years
------------------------------------------------------------------------
WEBSITE / BLOG
------------------------------------------------------------------------
Never know what to listen to? The ITF website is regularly updated with the latest new tracks + mixes that tickle our fancy. Get an eyeful over at:
http://intheface.me/